Call for Applications: Junior Fellows Program, Andrew W. Mellon Society of Fellows in Critical Bibliography
SoFCB Junior Fellows Program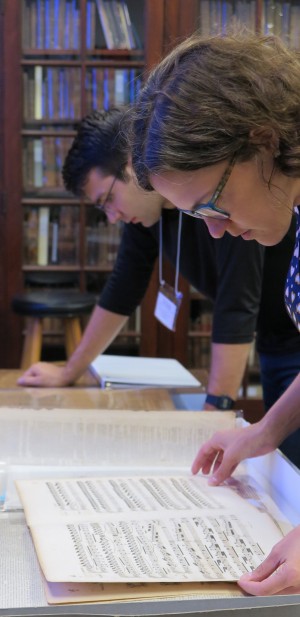 Each year, ten Junior Fellows are selected to join the Andrew W. Mellon Society of Fellows in Critical Bibliography (SoFCB) through an open application process. After completing two years in good standing as Junior Fellows, participants have the option to become Senior Fellows.
Junior and Senior Fellows form a thriving community of scholars working across disciplines to advance the study of texts, images, and artifacts as material objects. They come from a diverse array of institutions and fields; they collaborate in a wide range of scholarly and professional contexts; they participate in a community of shared research and peer mentorship; they direct the ongoing operations and governance of the Society. Current Junior and Senior Fellows are librarians, archivists, curators, graduate students, independent scholars, and faculty members who hold tenure-track, teaching, and postdoctoral research positions. They pursue research involving a wide array of objects, including printed books, illuminated manuscripts, coins and medals, carved stones, moveable books, digitized newspapers, and photographic archives. Committed to fostering an accessible, inclusive, and diverse environment for the study of the material text, fellows seek out opportunities to share their knowledge with broader publics and communities.
The Society is a program of Rare Book School at the University of Virginia, and fellows work in collaboration with RBS staff to forward our shared goal of promoting inclusivity and diversity in the field of bibliography.
The SoFCB Junior Fellows Program is supported by a $1 million grant from The Andrew W. Mellon Foundation. The Mellon Foundation's support will enable eight cohorts of Junior Fellows to join the Society, with the final cohort being selected in 2025.
How do I apply for the Junior Fellowship Program?
We are now accepting applications for the 2020–22 cohort of SoFCB Junior Fellows; applications are due on 1 November 2019. To begin the application process, please log into your myRBS account (or create a new myRBS account). On the Home screen, click the "Apply for a Scholarship or Fellowship" button on the left side of the page. If you have trouble with myRBS, see the FAQ page or email rbs_scholarships@virginia.edu. If you need other assistance with the application, please email Donna Sy, SoFCB Administrative Director, at rbs-mellon@virginia.edu.
We recommend preparing your answers in advance, using our SoFCB JFP Application Guide to make the online submission process faster and easier. You may, however, leave and return to an application that is in progress in Interfolio.
Applicants are asked to solicit two confidential letters of recommendation, which are to be submitted through Interfolio. These letters are also due by 1 November 2019. When finalists are notified in February 2020, they will be asked to complete a phone interview with the SoFCB Selection Committee, and to submit two applications for summer 2020 RBS courses by 1 March 2020, as part of the final round of evaluation. We will announce the 2020–22 SoFCB Junior Fellows in April 2020.
For more information, visit this link.